Texas Club Charcoal Fire Lighter Review
We've all been that demoralised person, trying and failing to start your kamado or BBQ when you just want to get your meat onto the grill to get those juices flowing. Fire starters do what they say on the tin: get your fire started, first time. When I bought my kamado and, having heard great things about electric fire starters, I picked up a Texas Club Charcoal Fire Lighter and haven't looked back since. I had experience using wood-wool style fire lighters (coils of wax coated wood kindling) but there's not really any comparison between the two.
| | | |
| --- | --- | --- |
| First impression: This looks weird | Pro: It's quick to ignite the charcoal | Con: It's quite noisy |
| Cable length: 3.2 m | Price: €49.99 | Prep time: 5 mins |
When it comes to cooking on your kamado, it's important that you don't use any accelerants like lighter fluid to start your charcoal burning. Because your kamado is constructed from porous ceramic, it will potentially absorb some of the lighter fluid. This will cause your otherwise delicious food to have foul taste and smell. Anyway, the use of lighter fluid and kamados is a whole other discussion which you can read here if you like.
About the Texas Club Charcoal Fire Lighter
This electric fire starter works by forced convection. It blows a scorching hot stream of air directly onto your charcoal and will light charcoal and wood extremely quickly. Shaped like a wand, the air is heated to over 650°C and it's really simple to use.
The Texas Club Charcoal Fire Lighter claims to easily light your grill, fireplace or campfire in just 60 seconds without using any hazardous chemicals. But the question is, how does the Texas Club Fire Starter perform when under scrutiny?
Features & specifications
Mains 230 Volt (2 pin plug supplied; 3 pin adapters needed for Ireland/UK)
1, 500 Watts power
An ideal, 3.2 m long cable
Stainless steel and plastic construction
Safety casting around the barrel which cools quickly after use
Built-in stand, which can double as a bottle opener
Starts your charcoal fire in minutes
Chemical free fire starting
How do you use it?
Refresh your charcoal from your last cook and or add some fresh lumps. Plug the lighter into a mains socket and touch the nose of the lighter to the charcoal you want to light up. Turn on the lighter and after a few moments, when sparks appear, pull back the lighter so that it's about 5 cm from the coals. Keep it there for as long as you need and watch as your charcoal effortlessly ignites. Repeat these steps in a few different place's spots in your charcoal or as you see fit.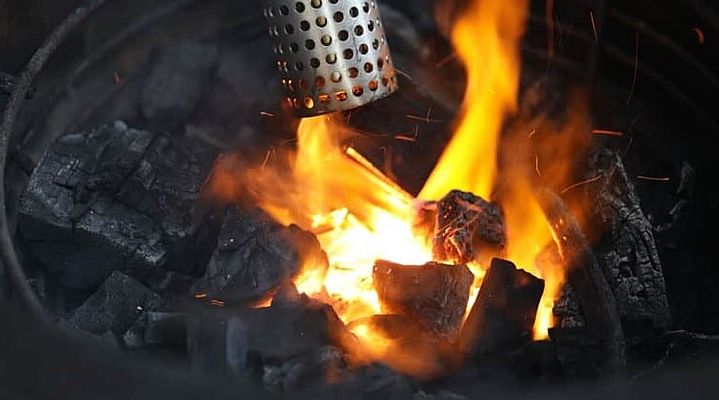 Top tip: I'd recommend always wearing a long sleeve t-shirt or jacket and sunglasses to protect your arms and eyes as some sparks can be thrown up when you're lighting up.
The Result: ⭐⭐⭐⭐
| | |
| --- | --- |
| Design: | ⭐⭐⭐⭐ |
| Performance: | ⭐⭐⭐⭐⭐ |
| Quality: | ⭐⭐⭐⭐ |
| Value: | ⭐⭐⭐⭐ |
| Overall Rating: | ⭐⭐⭐⭐ |
I really like using the Texas Club Fire Starter. Granted it takes longer than the 60 seconds the manufacturer claims, it's a very efficient and chemical free way to start your kamado or BBQ. The 3.2 m long cable is a really handy feature too. The material at the tip of the starter is prone to getting bent out of shape, not that that's a big deal.
WHERE CAN I BUY ONE?
The Texas Club Charcoal Fire Lighter is currently available from BBQ4U.com for €49.99. There are numerous other brands which sell very similar products. This review is only of the Texas Club electric grill fire starter, but if it's anything to go by, these types of fire starters are great.
Do you agree with my conclusion?
Let me know what you think about the Texas Club Charcoal Fire Lighter. Leave me a comment below with your thoughts and I'll get back to you!
---
---