Kamado Bono Grande Review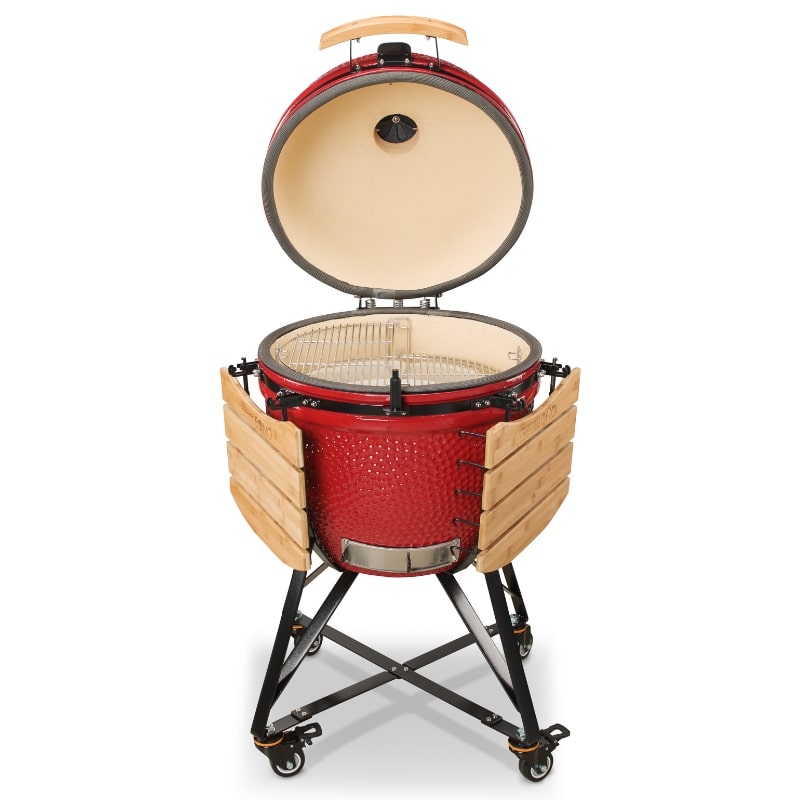 Kamados deliver succulent smoky food that can't be beaten for flavour. This is achieved by either cooking at low temperatures very slowly (low & slow) or at very high temperatures. The Kamado Bono Grande seems to offer charcoal grilling and smoking without the big price tags you'd find with equivalent big kamado brands. A Google search returns a price of €1699 for a Big Green Egg and €1599 for the Kamado Joe. I came across the Kamado Bono Grande while it was priced at €799. I hope to be able to shed some light on why there's such a price difference between them all.
| | | |
| --- | --- | --- |
| First impression: This is huge! | Pro: It's great value | Con: Not all accessories included |
| Cooking grate: 49 cm | Price: €849 | Light-up time: 15 mins |
About the Kamado Bono Grande
The Kamado Bono Grande boasts a grill diameter of 49 cm (19 inches). Indeed, Kamado Bono state that this grill can cook a whopping 30 burgers, 3 pork shoulders, 6 chickens, a large turkey, 15 steaks or 36 cm diameter pizza. I do however think that Kamado Bono have over stated the scope of what can be cooked at the same time on the grill. I don't think there's scope to cook as much as they state but nonetheless there's loads of room on the grill.
It's large grill size is even bigger than both the Kamado Joe Classic II or III both (18 inch) or the Large Big Green Egg (18.25 inch). And that's food for thought.
Marketed as being ideal for groups of 10 or more it's ideal for use at home or in a professional kitchen. It's versatile in that you can cook anything from rustic Neapolitan pizza to whole turkeys, chickens, pork shoulders or lamb shanks.
As with all kamados you can:
Grill directly over charcoal using direct heat: chicken, ham, pork chops etc.
Grill indirectly over charcoal using indirect heat: pizza, chicken, beef, ham, pork, lamb etc.
Wood smoke meats using charcoal and different varieties of wood
Features & specifications
Kamado ceramic grill (59 cm outer diameter), firebox, fire ring and lid with a fibreglass gasket
49 cm diameter stainless steel cooking grate
Two zone stainless steel grill rack
2-piece ceramic heat deflector for indirect cooking
Pre-installed stainless steel grill dome thermometer
Cast iron top vent for throttling airflow out
Stainless steel bottom vent
Sturdy wheeled iron stand, side shelves with hooks
All tools required for assembly
A choice of colours: red or black
The Packaging
When it comes to the packaging of kamados, it's essential that the heavy and brittle ceramic of the kamado is protected from any knocks or bumps. This kamado was delivered in a heavy duty corrugated cardboard box which was on a pallet.
Everything inside was securely packaged. The firebox, fire ring, cooking grates and grill rack were all stored inside the kamado for shipping. They were all individually wrapped in protective plastic wrap. Other components such as the bamboo lid handle and tools needed for assembly were packed around the kamado. The wheeled cast iron stand and side shelves were packaged in a separate box.
What's inside the box?
The ceramic grill, lid with fibreglass gasket
The internal firebox and fire ring
Two-zone grilling system with 2 stainless steel cooking grids
2-piece ceramic heat deflector for indirect cooking
Grill dome thermometer
Cast iron top vent
Cast iron firebox ash grate
Steel ash removal tool
Sturdy wheeled iron stand with 2 shelves (needs assembly)
Bamboo handle
All tools required for assembly
Protective cover
Recommended extras
I bought several accessories which don't come as standard with the Bono Grande. These are all well worth having and I get great use out of all of them.
Pizza peel €29.99
Digital food thermometer €17.99
Ash collecting system €21.99
Heat resistant gloves €21.99
Kamado Bono Grande Setup Process
Weighing in at a whopping 105 kg without packaging, this is a large and very heavy kamado. It's essential to have some help when assembling it. It's best practice to assemble the heavy duty stand before even moving the kamado itself. Once I'd the stand built, I got some help to lift the kamado into the stand.
What else you need to start cooking
Aside from what's in the box and the accessories I've mentioned, you'll need some essentials. So, you'll also need to buy a bag of lump charcoal, charcoal lighters and a box of matches or lighter. I use Texas Club Charcoal and love the flavour.
Performance
This kamado performs really well cooking numerous different types of meat and even pizza. It retains heat very well and it easily holds set temperatures for long periods. It's really economical on charcoal too. You only need to add a couple of fresh lumps of charcoal before you cook. And most importantly it delivers delicious, tender and juicy meats!
Cleaning your kamado
With all kamados, cleaning is easy. Light your charcoal and with both the top and bottom vents fully open, leave the lid open for 10 minutes and then close the lid. Opening both vents fully will allow a roaring hot temperature to develop inside. Any grease, oil, fat or dirt simply burns off. And voila, you have a cleaned kamado. Make sure to put in the grill grates, deflector plates too and pizza stone too. I find myself cleaning out the ash after about 4 or 5 cooks.
The Result: ⭐⭐⭐⭐⭐
This is an excellent value large kamado and I really love cooking low and slow on it. When you consider that the Kamado Bono Grande is now €849 and you will need another €242 of accessories, this gives a total price of €1090 for a fully loaded kamado. Compare this to the competitor prices which start at €1599 and you'll be saving over €500. Now, with your €500 extra in your back pocket, consider this: The Bono Grande is even bigger that its competitors as well…and we all know that bigger is better.
| | |
| --- | --- |
| Design: | ⭐⭐⭐⭐ |
| Performance: | ⭐⭐⭐⭐⭐ |
| Quality: | ⭐⭐⭐⭐⭐ |
| Value: | ⭐⭐⭐⭐⭐ |
| Overall Rating: | ⭐⭐⭐⭐⭐ |
There are just couple of things I'd like to see improved on this kamado:
Firstly, the lid is quite heavy and, depending on who's using it, can be difficult to lift. If someone closes the lid without realising that the weight of the lid is unsupported, then it will drop with a thud. All you can do is hope the dome hasn't cracked, so it's really something to watch out for.
Secondly, while the bamboo handle looks smart, I don't think it suitable for the outdoors. There's no varnish or lacquer on the bamboo so over time and with moisture it will discolour to a nasty black-brown colour. The simple solution is to give it a quick coat or two or aerosol lacquer before you assemble it.
WHERE CAN I BUY ONE?
The Kamado Bono Grande is available from KamadoBono.ie , BBQ4You.eu and in several stores for €849.99.
Do you agree with my conclusions? Which Kamado do you think I should review next?
Leave me a comment and let me know what you think about the Kamado Bono Grande or which kamado you think I should review next.
---
---