Kamado Bono Brand Review
Established in Lithuania in 2013, Kamado Bono prides itself on selling the best quality Kamado grills at competitive prices. While Kamado Bono has a relatively short history, it has flourished around Europe. So today it's sold in 19 European countries. They are focused on growing the brand while improving their products. In this Kamado Bono brand review I'll discuss the complete range, warranties, product quality and customer support.
The Kamado Bono Range of Ceramic Grills
Kamado Bono offer a large range of kamados. All their kamado grills are available in two colours, red and black.
You can also read my reviews of the Kamado Bono Grande and the Kamado Bono Picnic. Also, I have written overviews of the Kamado Bono Minimo and Media.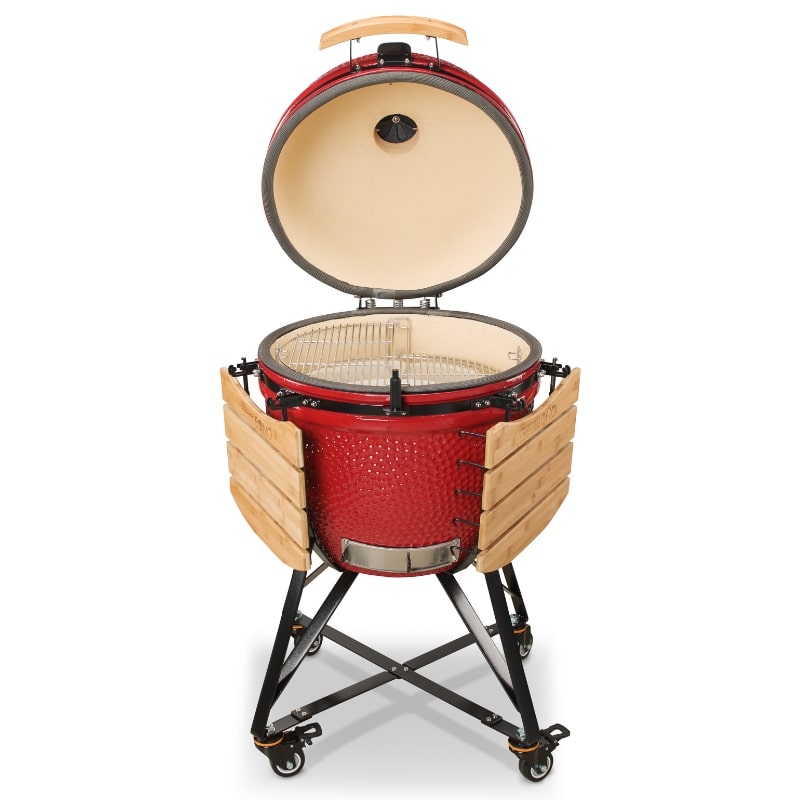 Where is Kamado Bono Made? Who makes Kamado Bono?
Kamado Bono ceramic grills are manufactured in one of the most modern Kamado factories in China. The factory has a deep tradition in ceramic production, passed down from generations.
Quality & Manufacturing
Because Kamado Bono are keen on ceramic development and improvement, they actively participate in developing the factory processes. Their ceramics are tested and certified by a well-known German laboratory. Below are some details about the peripheral parts of the Kamado Bono grills:
Main body: refractory ceramic
Top vent: cast iron
Side table & handle: bamboo
Cooking grid: 6 mm stainless steel
Gasket seal: fibreglass
Band, spring & stand: steel
Accessories
Kamado Bono boasts a wide range of grill accessories. Many of these accessories come as standard with their kamados. From grill grate grippers to pizza stones and rotisseries. Kamado Bono also sell a range of charcoals & smoking woods and some furniture too. So, here's a brief list of some of the accessories they offer:
Two zone grilling systems
Ash collectors
Heat Deflectors
Pizza stones & peels
Rotisserie
Chicken stands
A selection of pots and pans
Rotating skewers
A selection of cast iron cooking grates
Digital thermometers
Meat racks
Customer Support
Because I own some Kamado Bono grills, I can speak from personal experience. The customer support from Kamado Bono is excellent. I find them supportive and professional. I'm yet to have any problems with any of my Kamado Bono grills or accessories.
Warranties
Kamado Bono offers an excellent warranty with its kamado grills. Once you've registered your Kamado Bono, then the ceramic frame, ceramic firebox, fire ring and ceramic accessories of the barbecue grill come with a lifetime warranty.
So, a 2-year warranty applies to all metal parts and accessories of the grill. A 1-year warranty applies to temperature meter and fire-resistant gasket. Also, a 1-year warranty applies to side shelves.
Is Kamado Bono Good?
Kamado Bono are a great brand of Kamado. They offer very high quality kamados and accessories at competitive prices. Also, they have excellent customer support.
How do you clean Kamado Bono?
Keeping your kamado clean is an important and thankfully easy process. Firstly, it's very important for food hygiene. Nobody will thank you for cooking using filthy kamado. Secondly, cleaning your kamado will ensure optimum cooking performance. Finally, you'll ensure there'll be no cross contamination of flavours from one cook to another. Read my full description of how to clean your kamado here.
How do you light a Kamado Bono?
There are a few different ways to light the charcoal in your kamado. You can read my full description of how to clean light your kamado here. One big thing to note is that you shouldn't ever use lighter fluid to get your charcoal lit. If you'd like to find out more, you can read my post about why you should NEVER use lighter fluid in your kamado grill.
---